The days are getting longer (not necessarily warmer though), which means more daylight, which means more time to read. And reading outdoors, lying on a grassy knoll, enjoying all the spring flowers in bloom.
One day…
---
Firstlife (Everlife #1) by Gena Showalter (March 1; YA/Paranormal Fantasy; Harlequin Teen) – Step one…you die.
ONE CHOICE. TWO REALMS. NO SECOND CHANCE.
Tenley "Ten" Lockwood is an average seventeen-year-old girl…who has spent the past thirteen months locked inside the Prynne Asylum. The reason? Not her obsession with numbers, but her refusal to let her parents choose where she'll live — after she dies. There is an eternal truth most of the world has come to accept: Firstlife is merely a dress rehearsal, and real life begins after death.
In the Everlife, two realms are in power: Troika and Myriad, long-time enemies and deadly rivals. Both will do anything to recruit Ten, including sending their top Laborers to lure her to their side. Soon, Ten finds herself on the run, caught in a wild tug-of-war between the two realms that will do anything to win the right to her soul. Who can she trust? And what if the realm she's drawn to isn't where the boy she's falling for lives? She just has to stay alive long enough to make a decision…

---
Rag and Bone by K. J. Charles (March 1; M/M Paranormal, Historical Romance; Samhain Publishing) –  It's amazing what people throw away…
Crispin Tredarloe never meant to become a warlock. Freed from his treacherous master, he's learning how to use his magical powers the right way. But it's brutally hard work. Not everyone believes he's a reformed character, and the strain is putting unbearable pressure on his secret relationship with waste-man Ned Hall.
Ned's sick of magic. Sick of the trouble it brings, sick of its dangerous grip on Crispin and the miserable look it puts in his eyes, and sick of being afraid that a gentleman magician won't want a street paper-seller forever—or even for much longer.
But something is stirring among London's forgotten discards. An ancient evil is waking up and seeking its freedom. And when wild magic hits the rag-and-bottle shop where Ned lives, a panicking Crispin falls back onto bad habits. The embattled lovers must find a way to work together—or London could go up in flames.
This story is set in the world of the Charm of Magpies series.
Warning: Contains a warlock who needs to go straight (but isn't), a waste-man running out of patience, blood magic, bad-tempered justiciars, and a pen with a mind of its own.
Quantum Night by Robert J. Sawyer (March 1; Sci-Fi/Speculative; Ace) – Experimental psychologist Jim Marchuk has developed a flawless technique for identifying the previously undetected psychopaths lurking everywhere in society. But while being cross-examined about his breakthrough in court, Jim is shocked to discover that he has lost his memories of six months of his life from twenty years previously—a dark time during which he himself committed heinous acts.
Jim is reunited with Kayla Huron, his forgotten girlfriend from his lost period and now a quantum physicist who has made a stunning discovery about the nature of human consciousness. As a rising tide of violence and hate sweeps across the globe, the psychologist and the physicist combine forces in a race against time to see if they can do the impossible—change human nature—before the entire world descends into darkness.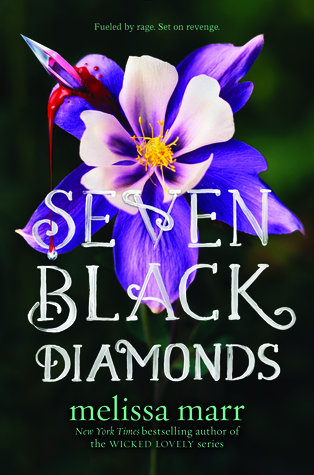 Seven Black Diamonds by Melissa Mar (March 1; YA Paranormal, Urban Fantasy; HarperCollins) – This riveting fantasy marks Melissa Marr's return to the world of faery courts that made her Wicked Lovely series an international phenomenon.
Lilywhite Abernathy is a criminal—she's half human, half fae, and since the time before she was born, a war has been raging between humans and faeries. The Queen of Blood and Rage, ruler of the fae courts, wants to avenge the tragic death of her heir due to the actions of reckless humans.
Lily's father has always shielded her, but when she's sent to the prestigious St. Columba's school, she's delivered straight into the arms of a fae sleeper cell—the Black Diamonds. The Diamonds are planted in the human world as the sons and daughters of the most influential families and tasked with destroying it from within. Against her will, Lilywhite's been chosen to join them…and even the romantic attention of the fae rock singer Creed Morrison isn't enough to keep Lily from wanting to run back to the familiar world she knows.
Melissa Marr returns to faery in a dramatic story of the precarious space between two worlds and the people who must thrive there. The combination of ethereal fae powers, tumultuous romance, and a bloodthirsty faery queen will have longtime fans and new readers at the edge of their seats.
Beautiful Boss (Beautiful Bastard #4.5) by Christina Lauren (March 1; Contemporary Romanc; Gallery Books) -The ninth work in the New York Times and #1 internationally bestselling series that started with Beautiful Bastard. In this novella, Will Sumner and Hanna Bergstrom (from Beautiful Player) find that a wedding and everlasting love were just the beginning.
One Player tamed. One nerd girl satisfied. And one more major life decision to make. When Will fell for Hanna, her quirky sense of humor and fierce dedication to her career were part of the attraction. (Not to mention her coy newbie attitude toward sex and her willingness to let him teach her everything.) But when the job offers start rolling in for her—and oh, they do—Hanna has trouble deciding what she wants, where they should live, and how much she should burden Will with the decision. Magic between the sheets is only one part of a relationship…getting on the same page is quite another altogether.
What Is Not Yours Is Not Yours by Helen Oyeyemi (March 8; Magical Realism; Riverhead Books) –  Playful, ambitious, and exquisitely imagined, What Is Not Yours Is Not Yours is cleverly built around the idea of keys, literal and metaphorical. The key to a house, the key to a heart, the key to a secret—Oyeyemi's keys not only unlock elements of her characters' lives, they promise further labyrinths on the other side. In "Books and Roses" one special key opens a library, a garden, and clues to at least two lovers' fates. In "Is Your Blood as Red as This?" an unlikely key opens the heart of a student at a puppeteering school. "'Sorry' Doesn't Sweeten Her Tea" involves a "house of locks," where doors can be closed only with a key—with surprising, unobservable developments. And in "If a Book Is Locked There's Probably a Good Reason for That Don't You Think," a key keeps a mystical diary locked (for good reason). 
Oyeyemi's tales span multiple times and landscapes as they tease boundaries between coexisting realities. Is a key a gate, a gift, or an invitation? What Is Not Yours Is Not Yours captivates as it explores the many possible answers.
The Courier: A San Angeles Novel by Gerald Brandt (March 1; Cyberpunk/Dystopia; DAW) – A far-future science fiction debut set in San Francisco—action adventure with a cyberpunk tone.
Kris Ballard is a motorcycle courier. A nobody. Level 2 trash in a multi-level city that stretches from San Francisco to the Mexican border, where corporations make all the rules. A runaway since the age of 14, Kris struggled to set up her life, barely scraping by, working hard to make it without anyone's help. Witnessing the murder of one of her clients changes everything. Now she's stuck with a mysterious package that everyone seems to want.
Now the corporations want Kris gone, and are willing to go to almost any length to make it happen. Hunted, scared, and alone, she retreats to the only place she knows she can hide: the Level 1 streets. Running from people that seem to know her every move, she is rescued by Miller—a member of an underground resistance group—only to be pulled deeper into a world she doesn't understand. They work together to stay ahead of the corporate killers, until Miller falls into their hands. Kris realizes being alone isn't the answer, and she's willing to do anything to get him back.
Adulthood is a Myth: A "Sarah's Scribbles" Collection by Sarah Andersen (March 8; Comedy/Comic/Graphic Novel; Andrews McMeel Publishing) – Are you a special snowflake? Do you love networking to advance your career? Have you never wasted a fresh new day surfing the internet? Ugh. This book is not for you. Please go away.
Sarah's Scribbles — casually drawn, perfectly on-point comics by young Brooklyn-based artist Sarah Andersen — confront head-on the horrors, anxiety, and awkwardness of modern adult life. From the agony of holding hands with a gorgeous guy to the yawning pit of hell that is the wifi gone down to the eye-watering pain of eating too-hot pizza because one cannot stand to wait for it to cool down, Sarah fearlessly documents it all.
Like the work of fellow Millennial authors Allie Brosh, Grace Helbig, and Gemma Correll, Sarah's total frankness on extremely personal issues such as body image, self-consciousness, introversion, relationships, and bra-washing makes her comics highly relatable and consistently hilarious.
The Confessions by Tiffany Reisz (March 15; Fiction/Erotica; 8th Circle Press) – Three Sinners. Three confessions. And all the dirty little secrets you could possibly desire… 
Father Stuart Ballard has been Marcus Stearns' confessor since the young Jesuit was only eighteen years old. He thought he'd heard every sin the boy had to confess until Marcus uttered those three fateful words: "I met Eleanor."
So begins the 40-page "The Confession of Marcus Stearns," a moving coda to the RITA® Award-winning Original Sinners series. Originally published as a limited-edition paperback for the 2014 RT Booklovers' Convention, and available worldwide for the first time.
This collection also includes "The Confession of Eleanor Schreiber," a companion 36-page story written exclusively for The Confessions.
And, finally, all secrets are revealed in "The Confession of Tiffany Reisz," an exclusive, in-depth interview.
Soul to Keep (Vampire Sorority Sisters #3) by Rebekah Weatherspoon (March 15; Paranormal Romance/Lesbian; Bold Strokes Books) – With every commitment comes sacrifice …
College junior Jill Babineux knows where her priorities lie. Between a full course load, her blood pledge to feed a certain vampire, and all the community service hours she's got to log with her sisters in Alpha Beta Omega Sorority, the last thing on her mind is finding love, especially with an immortal.
Which works out just fine for Miyoko "Tokyo" Hayashi who's been so busy enjoying her wild days and even kinkier nights, she's never had a reason to speak to the tiny know-it-all. But after a random run-in and a few carefully plotted encounters, Miyoko learns that there's more to the sorority's least favorite member.
Miyoko never thought she'd actually start to like the girl, let alone love her, but when true evil comes for Jill, Miyoko finds herself willing to do anything to protect her. Anything.


Snakewood by Adrian Selby (March 15; SFF; Orbit) – Once they were a band of mercenaries who shook the pillars of the world through cunning, alchemical brews, and cold steel. Whoever met their price won.
Now, their glory days behind them, scattered to the wind, and their genius leader in hiding, they are being hunted down and eliminated one by one.
A lifetime of enemies has its own price.
Adrian Selby brings us into an unforgettable new world filled with magic, mystery, intrigue, bloodshed and betrayal.