Cappuccino Kisses (The Draysons: Sprinkled with Love) by Yahrah St. John (Romance; Harlequin Kimani; June 1) Triple chocolate cupcakes can help get a girl through the tough times—especially after Mariah Drayson's dream marriage ends in heartbreak. Now the gifted baker has been handed a once-in-a-lifetime opportunity: running the Seattle branch of her family's legendary Chicago patisserie. The competition is stiff. Until high-end coffee importer Everett Myers comes up with a sinfully tempting proposition.  The finest ingredients. Limited distribution. Everett knows the secrets of success. Joining forces with the alluring pastry chef is making the millionaire widower believe in second chances. And when Mariah unveils her secret weapon—a decadent new dessert—he knows they're a winning team. But the single father can't coast on sugarcoated fantasies. Is Mariah prepared to reveal the secret that could cost her a future with Everett?
Stained by Chris T. Kat (M/M Romance; Dreamspinner Press; June 1) Blair Clark has reached his breaking point. Forced to leave one job because of sexual harassment, he's having difficulty finding another. Since no one believes what happened, Blair's left with a stain on his employment record that he can't get rid of. He's had to move back home with his mother. As if that's not bad enough, he realizes his crush, Travis, is simply using him. His romantic life looks as hopeless as his job search. Jack Ross is sure he'll never find anyone who'll love him for who he is. All anyone sees is the port-wine stain on his left cheek—not the man behind it. Even his mother thinks he should get rid of it. But the procedure is difficult and painful. When Blair applies for a secretarial position with Jack's firm, both men learn that beauty is, indeed, in the eye of the beholder. It'll take a lot of trust to chase away their insecurities, but if they take a chance on one another, love will find a way.
His Loving Caress by Candace Shaw (Romance; Harlequin Kimani; June 1) Instead of falling apart when her childhood sweetheart chose his music career over marriage, Elle Lauren fled to Paris to study fashion design. Her stunning wedding gowns now give other brides the happily-ever-after she didn't have. Ignoring Braxton Chase's long-distance apologies has been easy. But meeting him once more stirs the deep longings and desires that a decade has not erased. Braxton walked away from the pressure to marry at a young age, and he's regretted breaking Elle's heart ever since. From the moment he sees her again at his Atlanta jazz club, he knows he wants more than forgiveness—he wants a second chance at the body-and-soul connection that they once had. Can he convince her to trust the sweet, seductive melody of their lost love?
The Bridge by Rachel Lou (Young Adult LGBT Fantasy; Dreamspinner Press; June 2) Everett Hallman might not be the world's most powerful witch, but he does his part by helping wayward souls find their way to the beyond. Then a feeling Everett can't explain lures him away from the magical woods near his house, to a local martial arts school. There, he is intrigued when he uncovers remains left by supernatural beings of enormous power, and he cannot resist looking into the mystery. Everett learns he is a Bridge Master: a witch capable of passing into different spirit realms, but his revelation comes with a new set of problems. First, the powerful witch instructing him disappears, and then he notices something strange about his attractive new friend from the martial arts studio. Worst of all, Everett's reserves of spell-casting energy continue to deplete. Only one thing is certain—Everett cannot turn his back on this puzzle until he gets some answers.
Where No One Knows, 2nd Edition by Jo Ramsey (YA Fantasy; Dreamspinner Press; June 2) Kellan McKee is different, but not for the reasons everyone thinks. He's open about being transgender and grateful to have his mother's support, even if his stepfather disapproves. When Kellan is attacked by one of his stepfather's friends, he's more than capable of defending himself. But doing so comes with a price: Kellan is forced to reveal what really sets him apart—his psychic abilities. Now Kellan must escape his stepfather's vengeance with only the money his mother can provide. In Denver he meets Shad, a person with powers similar to his own who is willing to help him. The two agree to travel together, and Shad reveals there's a group in Boston where Kellan can find a safe haven and learn more about his gift—and how to control it. Kellan's respite might be short-lived, however, if his stepfather manages to find him. And not everyone in Boston welcomes him with open arms. Kellan might not be as safe as he'd hoped.
Grunt: The Curious Science of Humans at War by Mary Roach (Non-fiction; W.W. Norton; June 7) Grunt tackles the science behind some of a soldier's most challenging adversaries—panic, exhaustion, heat, noise—and introduces us to the scientists who seek to conquer them. Mary Roach dodges hostile fire with the U.S. Marine Corps Paintball Team as part of a study on hearing loss and survivability in combat. She visits the fashion design studio of U.S. Army Natick Labs and learns why a zipper is a problem for a sniper. She visits a repurposed movie studio where amputee actors help prepare Marine Corps medics for the shock and gore of combat wounds. At Camp Lemmonier, Djibouti, in east Africa, we learn how diarrhea can be a threat to national security. Roach samples caffeinated meat, sniffs an archival sample of a World War II stink bomb, and stays up all night with the crew tending the missiles on the nuclear submarine USS Tennessee. She answers questions not found in any other book on the military: Why is DARPA interested in ducks? How is a wedding gown like a bomb suit? Why are shrimp more dangerous to sailors than sharks? Take a tour of duty with Roach, and you'll never see our nation's defenders in the same way again.
Last Call at the Nightshade Lounge by Paul Krueger (Fantasy; Quirk Books; June 7) College grad Bailey Chen has a few demons: no job, no parental support, and a rocky relationship with Zane, the only friend who's around when she moves back home. But when Zane introduces Bailey to his cadre of monster-fighting bartenders, her demons get a lot more literal. Like, soul-sucking hell-beast literal. Soon, it's up to Bailey and the ragtag band of magical mixologists to take on whatever—or whoever—is behind the mysterious rash of gruesome deaths in Chicago, and complete the lost recipes of an ancient tome of cocktail lore.
Infomocracy: A Novel by Malka Ann Older (Sci-fi; Tor.com; June 7) It's been twenty years and two election cycles since Information, a powerful search engine monopoly, pioneered the switch from warring nation-states to global micro-democracy. The corporate coalition party Heritage has won the last two elections. With another election on the horizon, the Supermajority is in tight contention, and everything's on the line. With power comes corruption. For Ken, this is his chance to do right by the idealistic Policy1st party and get a steady job in the big leagues. For Domaine, the election represents another staging ground in his ongoing struggle against the pax democratica. For Mishima, a dangerous Information operative, the whole situation is a puzzle: how do you keep the wheels running on the biggest political experiment of all time, when so many have so much to gain?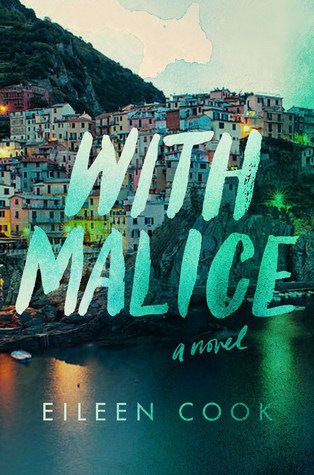 With Malice by Eileen Cook (Young Adult; HMH Books for Young Readers; June 7) Eighteen-year-old Jill Charron wakes up in a hospital room, leg in a cast, stitches in her face and a big blank canvas where the last 6 weeks should be. She comes to discover she was involved in a fatal accident while on a school trip in Italy three days previous but was jetted home by her affluent father in order to receive quality care. Care that includes a lawyer. And a press team. Because maybe the accident…wasn't an accident. Wondering not just what happened but what she did, Jill tries to piece together the events of the past six weeks before she loses her thin hold on her once-perfect life.
Super Extra Grande by Yoss, David Frye (Translation) (Sci-fi; Restless Books; June 7) In a distant future in which Latin Americans have pioneered faster-than-light space travel, Dr. Jan Amos Sangan Dongo has a job with large and unusual responsibilities: he's a veterinarian who specializes in treating enormous alien animals. Mountain-sized amoebas, multisex species with bizarre reproductive processes, razor-nailed, carnivorous humanoid hunters: Dr. Sangan has seen it all. When a colonial conflict threatens the fragile peace between the galaxy's seven intelligent species, he must embark on a daring mission through the insides of a gigantic creature and find two swallowed ambassadors—who also happen to be his competing love interests.
Idol (VIP #1) by Kristen Callihan (Romance; Plain Jane; June 7) Libby:
I found Killian drunk and sprawled out on my lawn like some lost prince. With the face of a god and the arrogance to match, the pest won't leave. Sexy, charming, and just a little bit dirty, he's slowly wearing me down, making me crave more. He could be mine if I dare to claim him. Problem is, the world thinks he's theirs. How do you keep an idol when everyone is intent on taking him away? Killian: As lead singer for the biggest rock band in the world, I lived a life of dreams. It all fell apart with one fateful decision. Now everything is in shambles. Until Liberty. She's grouchy, a recluse —and kind of cute. Scratch that. When I get my hands on her, she is scorching hot and more addictive than all the fans who've screamed my name. The world is clamoring for me to get back on stage, but I'm not willing to leave her. I've got to find a way to coax the hermit from her shell and keep her with me. Because, with Libby, everything has changed. Everything.
Unbreak My Heart by Nicole Jacquelyn (Romance; Forever; June 7) If you're Kate Evans, you keep your friend Rachel, bond with her kids, and bury your feelings for her husband. The fact that Shane's in the military and away for long periods helps-but when tragedy strikes, everything changes. After Rachel, pregnant with her fourth child, dies in a car accident and the baby miraculously survives, Kate upends her entire life to share parenting duties. Then on the first anniversary of Rachel's death, Kate and Shane take comfort in each other in a night that they both soon regret. Shane's been angry for a year, and now he feels guilty too – for sleeping with his wife's best friend and liking it . . . liking her. Kate's ability to read him like a book may have once sent Shane running, but their lives are forever entwined and they are growing closer. Now with Shane deployed for seven months, Kate is on her own and struggling with being a single parent. Shane is loving and supportive from thousands of miles away, but his homecoming brings a betrayal Kate never saw coming. So Kate's only choice is to fight for the future she deserves – with or without Shane. . .
The Many Selves of Katherine North by Emma Geen (Young Adult Sci-fi; Bloomsbury; June 7) Nineteen-year-old Kit works for the research department of Shen Corporation as a phenomenaut. She's been "jumping"–projecting her consciousness, through a neurological interface–into the bodies of lab-grown animals made for the purpose of research for seven years, which is longer than anyone else at ShenCorp, and longer than any of the scientists thought possible. She experiences a multitude of other lives–fighting and fleeing as predator and prey, as mammal, bird, and reptile–in the hope that her work will help humans better understand the other species living alongside them. Her closest friend is Buckley, her Neuro–the computer engineer who guides a phenomenaut through consciousness projection. His is the voice, therefore, that's always in Kit's head and is the thread of continuity that connects her to the human world when she's an animal. But when ShenCorp's mission takes a more commercial–and ominous–turn, Kit is no longer sure of her safety. Propelling the reader into the bodies of the other creatures that share our world, The Many Selves of Katherine North takes place in the near future but shows us a dazzling world far, far from the realm of our experience.
A Green and Ancient Light by Frederic S. Durbin (Fantasy; Saga Press; June 7) Set in a world similar to our own, during a war that parallels World War II, A Green and Ancient Light is the stunning story of a boy who is sent to stay with his grandmother for the summer in a serene fishing village. Their tranquility is shattered by the crash of a bullet-riddled enemy plane, the arrival of grandmother's friend Mr. Girandole—a man who knows the true story of Cinderella'­s slipper—and the discovery of a riddle in the sacred grove of ruins behind grandmother's house. In a sumptuous idyllic setting and overshadowed by the threat of war, four unlikely allies learn the values of courage and sacrifice.
Romeo and/or Juliet: A Chooseable-Path Adventure by Ryan North (Graphic Novel; Riverhead; June 7) In this choose-your-own-path version of Romeo and Juliet, you choose where the story goes every time you read! What if Romeo never met Juliet? What if Juliet got really buff instead of moping around the castle all day? What if they teamed up to take over Verona with robot suits? Whatever your adventure, you're guaranteed to find lots of romance, lots of epic fight scenes, and plenty of questionable decision-making by very emotional teens. All of the endings—there are over a hundred—feature beautiful illustrations by some of the greatest artists working today, including New York Times bestsellers Kate Beaton, Noelle Stevenson, Randall Munroe, and Jon Klassen. Packed with exciting choices, fun puzzles, secret surprises, terrible puns, and more than a billion possible storylines, Romeo and/or Juliet offers a new experience every time you read it. You can choose to play as Romeo or Juliet (obviously) but you can also play as both of them, or as Juliet's nurse, or, if you're good, you can even unlock a fourth playable character! That's right. We figured out how to have unlockable characters in books. Choose well, and you may even get to write the world's most awkward choose-your-own sex scene.
Rocks Fall, Everyone Dies by Lindsay Ribar (Young Adult Fantasy; Kathy Dawson Books; June 7) Twin Peaks meets Stars Hollow in this paranormal suspense novel about a boy who can reach inside people and steal their innermost things—fears, memories, scars, even love—and his family's secret ritual that for centuries has kept the cliff above their small town from collapsing. Aspen Quick has never really worried about how he's affecting people when he steals from them. But this summer he'll discover just how strong the Quick family magic is—and how far they'll go to keep their secrets safe. With a smart, arrogant protagonist, a sinister family tradition, and an ending you won't see coming, this is a fast-paced, twisty story about power, addiction, and deciding what kind of person you want to be, in a family that has the ability to control everything you are.
An Affinity for Steel: The Aeons' Gate Trilogy by Sam Sykes (Epic Fantasy; Orbit; June 7) There are only a few productive things a man can do once he picks up a sword. And the very lowest of these is to become an adventurer, like Lenk and his companions. For the right price, no deed is too dirty, no task is too dangerous, no foe too ferocious. Not even a demon. From wars ancient and terrible, wounds are bleeding. From seas deep and fathomless, demons are rising. From the mouth of hell, the Kraken Queen is calling. And all that stands between the damned and the mortal world are a pack of degenerates and the steel they carry. Seas will rise. Heaven will fall. Now, for the first time the breakout trilogy by Sam Sykes is collected in one volume.
Hunger: A Memoir of (My) Body by Roxane Gay (Memoir/Essay; Harper; June 14) In her phenomenally popular essays and long-running Tumblr blog, Roxane Gay has written with intimacy and sensitivity about food and body, using her own emotional and psychological struggles as a means of exploring our shared anxieties over pleasure, consumption, appearance, and health. As a woman who describes her own body as "wildly undisciplined," Roxane understands the tension between desire and denial, between self-comfort and self-care. In Hunger, she explores her own past—including the devastating act of violence that acted as a turning point in her young life—and brings readers along on her journey to understand and ultimately save herself. With the bracing candor, vulnerability, and power that have made her one of the most admired writers of her generation, Roxane explores what it means to learn to take care of yourself: how to feed your hungers for delicious and satisfying food, a smaller and safer body, and a body that can love and be loved—in a time when the bigger you are, the smaller your world becomes.
Reliquary (Reliquary #1) by Sarah Fine (Fantasy; 47North; June 14) Mattie Carver's engagement party should have marked the start of her own personal fairy tale. But when her fiancé, Ben, is violently abducted the next morning, her desperate quest to find him rips her away from small-town life and reveals a shattering truth: magic is real—and Ben is hooked. It's not the stuff of storybooks. It's wildly addictive, capable of producing everything from hellish anguish to sensual ecstasy almost beyond human endurance. Determined to find out who took Ben and why, Mattie immerses herself in a shadowy underworld and comes face-to-face with the darkly alluring Asa Ward, a rogue magic dealer, infamous hustler…and her missing fiancé's estranged brother. Asa has the power to sense magic, and he realizes Mattie is a reliquary, someone with the rare ability to carry magic within her own body, undetected. Asa agrees to help find Ben on one condition: Mattie must use her uncommon talent to assist his smuggling operations. Now, from magic-laced Vegas casinos to the netherworld clubs of Bangkok, Mattie is on a rescue mission. With Asa by her side, she'll face not only the supernatural forces arrayed against her but the all-too-human temptation that she fears she can't resist.