---
4 out of 5 stars ★★★★☆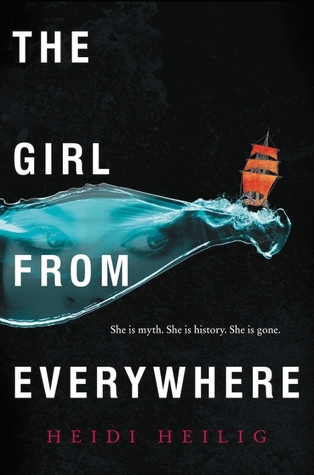 Synopsis: 
Nix has spent her entire life aboard her father's ship, sailing across the centuries, across the world, across myth and imagination. As long as her father has a map for it, he can sail to any time, any place, real or imagined: nineteenth-century China, the land from One Thousand and One Nights, a mythic version of Africa. Along the way they have found crewmates and friends, and even a disarming thief who could come to mean much more to Nix. But the end to it all looms closer every day. Her father is obsessed with obtaining the one map, 1868 Honolulu, that could take him back to his lost love, Nix's mother. Even though getting it—and going there—could erase Nix's very existence.

For the first time, Nix is entering unknown waters. She could find herself, find her family, find her own fantastical ability, her own epic love. Or she could disappear.
I loved this book! It combines many of my favorite things about fantasy/sci-fi. It's an adventure above all and it's a history lesson second. I love combining modern problem-solving to old world problems.
Here's a list of things you'll like as much as me if you read this book:
Time traveling ship! Any time, any place, even imaginary.
Myths from around the world –if a place existed in someone's mind, the time traveling ship can go there, the story takes inspiration from Norse, Chinese, Persian, and many other legends.
Great world building.
Awesome characters and character arcs.
Swag pet (aka tiny pocket dragon).
The story takes place in late 1800s Hawaii, where Nix father has traveled to find Nix's mother, his long lost love. But before they can get to Hawaii they have to find a specific map in order to get to the right time period. Maps are the foundation of time travel in this story. If the creator of the map signed and dated it correctly, then her father can travel with his ship through time and space to that location.
Some of the other travelers on the boat are a young man from a mythical Persian city and a woman and her "ghost bride" from Africa. The crew is picked up from places all over the world and all over time.
The ability to travel in time means they can easily get antiques and other valuables from different time periods to help them finance their quests. Like most  time travel narratives, once they go to a specific time they cannot return without a map made during that time frame.
I found Nix to be a very compelling character. She's mixed (half-white and half-Chinese) and no matter the time period, it usually makes her stand out. The drama with her father's quest to find Nix's mother is also interesting because Nix thinks that he wants to erase her existence. In addition to that, her father is also addicted to opium and regularly has episodes where she has to take care of him while he is high. He's not exactly the best father figure. Yet, she consistently is stronger for being able to take care of him, the crew, and herself.
Overall, I was really happy to read this book. It is full of adventure and awesome time-travel problems that didn't become forced or overly complicated. I'm very excited to read the sequel!