Happy December! It's almost the end of the year! Is everyone getting into the holiday spirit? Decorating, gifting, go the whole nine yards! But don't forget about these new releases!
---
After the Wedding (The Worth Saga #2) by Courtney Milan (Historical Romance; December 2016) Adrian Hunter has concealed his identity and posed as a servant to assist his powerful uncle. He's on the verge of obtaining the information he needs when circumstances spiral out of his control. He's caught alone with a woman he scarcely knows. When they're discovered in this compromising circumstance, he's forced to marry her at gunpoint. Luckily, his uncle should be able to obtain an annulment. All Adrian has to do is complete his mission…and not consummate the marriage, no matter how enticing the bride may be. Lady Camilla Worth has never expected much out of life—not since her father was convicted of treason and she was passed from family to family. A marriage, no matter how unfortunate the circumstances under which it was contracted, should mean stability. It's unfortunate that her groom doesn't agree. But Camilla has made the best of worse circumstances. She is determined to make her marriage work. All she has to do is seduce her reluctant husband.
Ocean of Storms by Christopher Mari, Jeremy K. Brown (Sci-fi; December 1, 2016; 47North) In the near future, political tensions between the United States and China are at an all-time high. Then a catastrophic explosion on the moon cleaves a vast gash in the lunar surface, and the massive electromagnetic pulse it unleashes obliterates Earth's electrical infrastructure. To plumb the depths of the newly created lunar fissure and excavate the source of the power surge, the feuding nations are forced to cooperate on a high-risk mission to return mankind to the moon. Now, a diverse, highly skilled ensemble of astronauts—and a pair of maverick archaeologists plucked from the Peruvian jungle—will brave conspiracy on Earth and disaster in space to make a shocking discovery.
Teach Me to Forget by Erica M. Chapman (Young Adult Contemporary; December 2nd 2016; Merit Press) This is the story of Ellery, a girl who learns how to live while waiting for the date she chose to die. Ellery's bought the gun, made arrangements for her funeral, and even picked the day. A Wednesday. Everything has fallen into place. Now all she has to do is die. When her plans go awry and the gun she was going to kill herself with breaks, she does the one thing she has control over–return it and get a new one. After tormenting the crusty customer service associate by trying to return the gun with the wrong receipt, Ellery gets caught by the security guard who also happens to be someone she knows–the annoyingly perfect Colter Sawyer from her English class. Colter quickly uncovers what she's hiding and is determined to change her mind. After confessing a closely held secret of his own, he promises not to tell hers. Ellery tries to fight her attraction to him as the shadows of her past cling tight around her, but when she's faced with another tragedy, she must decide whether her love for one boy is more important than a lifetime of pain.
Hanging The Stars (Half Moon Bay #2) by Rhys Ford (M/M Romance; December 5, 2016; Dreamspinner Press) Angel Daniels grew up hard, one step ahead of the law and always looking over his shoulder. A grifter's son, he'd learned every con and trick in the book but ached for a normal life. Once out on his own, Angel returns to Half Moon Bay where he once found…and then lost…love. Now, Angel's life is a frantic mess of schedules and chaos. Between running his bakery and raising his troubled eleven-year-old half-brother, Roman, Angel has a hectic but happy life. Then West Harris returns to Half Moon Bay and threatens to break Angel all over again by taking away the only home he and Rome ever had. When they were young, Angel taught West how to love and laugh but when Angel moved on, West locked his heart up and threw away the key. Older and hardened, West returns to Half Moon and finds himself face-to-face with the man he'd lost. Now, West is torn between killing Angel or holding him tight. But rekindling their passionate relationship is jeopardized as someone wants one or both of them dead, and as the terrifying danger mounts, neither man knows if the menace will bring them together or forever tear them apart.
The Farther He Runs (Kick #3) by Lynda Aicher (Romance; December 6, 2016; LoveSwept) After years away from home, Tanner Dorsey is back and sorting through feelings that have him in a stranglehold. The hardened Marine will do anything for a fallen comrade, so when an accident leaves Finn Kelley fighting for his life, Tanner's eager to be there for him. In fact, Tanner's ready and willing to do anything Finn asks—especially if it means finally acting on the sexual tension that's always kept him craving more. Finn senses it too—when he brushes against Tanner's stubbled jaw, when he inhales the scent of the T-shirt that clings to Tanner's body like a second skin. Now that he's more vulnerable than ever, Finn knows the time is right to take control, even if it means risking the heart and soul of their friendship. The bond they share goes beyond desire; it's a bond of brotherhood, forged under conditions few could imagine. But once they cross that line, there will be no more secrets. No more boundaries. And no turning back.
Black Knights, Dark Days: the True Story of Sadr City's Black Sunday by J. Matthew Fisk (Memoir; December 6, 2016; Warriors Publishing Group) They told us that we would be spending a year in the safest part of Iraq. Sadr City at the end of the 2nd Iraq war was full of Shia who hated Saddam Hussein and welcomed the U.S. liberators. Our mission was to restore essential services to the slum which housed nearly 3 million people in conditions of absolute squalor. Unknown to us, Muqtada Al Sadr and his militia, ten thousand strong in that city, had prepared a complex ambush coinciding with the exact moment our unit assumed responsibility for the city. My platoon was on a routine patrol when we became the target of that attack. Insurgents quickly disabled half our vehicles and forced us to take cover. Eighteen American soldiers and an Iraqi translator defended a narrow alley against 500 to one odds. The enemy sent a wave of unarmed women and children in to the alley before them as human shields, forcing us to choose between our humanity and our lives. April 4th, 2004 would become known in the media as Black Sunday. To the Black Knights of 2/5 Cavalry Regiment it would become the single moment which defined us as warriors and left almost everyone scarred for life. We made it out of that alley, but I think most of us are still there.
The Glass Universe: How the Ladies of the Harvard Observatory Took the Measure of the Stars by Dava Sobel (Non-fiction, history; December 6, 2016; Viking) In the mid-nineteenth century, the Harvard College Observatory began employing women as calculators, or "human computers," to interpret the observations made via telescope by their male counterparts each night. At the outset this group included the wives, sisters, and daughters of the resident astronomers, but by the 1880s the female corps included graduates of the new women's colleges—Vassar, Wellesley, and Smith. As photography transformed the practice of astronomy, the ladies turned to studying the stars captured nightly on glass photographic plates. The "glass universe" of half a million plates that Harvard amassed in this period—thanks in part to the early financial support of another woman, Mrs. Anna Draper, whose late husband pioneered the technique of stellar photography—enabled the women to make extraordinary discoveries that attracted worldwide acclaim. They helped discern what stars were made of, divided the stars into meaningful categories for further research, and found a way to measure distances across space by starlight. Their ranks included Williamina Fleming, a Scottish woman originally hired as a maid who went on to identify ten novae and more than three hundred variable stars, Annie Jump Cannon, who designed a stellar classification system that was adopted by astronomers the world over and is still in use, and Dr. Cecilia Helena Payne-Gaposchkin, who in 1956 became the first ever woman professor of astronomy at Harvard—and Harvard's first female department chair. Elegantly written and enriched by excerpts from letters, diaries, and memoirs, The Glass Universe is the hidden history of a group of remarkable women who, through their hard work and groundbreaking discoveries, disproved the commonly held belief that the gentler sex had little to contribute to human knowledge.
Hooked by Brenda Rothert (Romance; December 6, 2016; LoveSwept) Miranda: Even though I'm broke, putting myself through college, and working two jobs, I'm trying to make the best of it. Meanwhile, Jake Birch, hockey's hottest bad boy, lives in a luxury hotel in downtown Chicago—and still complains about every little thing in his penthouse. But after I tell him off, instead of getting me fired, Jake requests me as his personal housekeeper. Then he starts flirting with me. Only I'm not flirting back . . . at least, I'm trying not to. Did I mention that he's hockey's hottest bad boy? Jake: I've met the best woman at the worst possible time. Miranda is the fire to my ice—a sexy, charmingly candid spark who breaks down my walls and reminds me what it's like to feel again. But I'm being forced to date my team owner's daughter to keep my job, so I can't be caught with Miranda. Still, we're getting closer—until Miranda finds out about my "girlfriend." And that's not the only secret I've been keeping. But Miranda's the one I want . . . even if she doesn't believe me.
Last Year by Robert Charles Wilson (Sci-fi; December 6, 2016; Tor Books) Two events made September 1st a memorable day for Jesse Cullum. First, he lost a pair of Oakley sunglasses. Second, he saved the life of President Ulysses S. Grant. It's the near future, and the technology exists to open doorways into the past–but not our past, not exactly. Each "past" is effectively an alternate world, identical to ours but only up to the date on which we access it. And a given "past" can only be reached once. After a passageway is open, it's the only road to that particular past; once closed, it can't be reopened. A passageway has been opened to a version of late 19th-century Ohio. It's been in operation for most of a decade, but it's no secret, on either side of time. A small city has grown up around it to entertain visitors from our time, and many locals earn a good living catering to them. But like all such operations, it has a shelf life; as the "natives" become more sophisticated, their version of the "past" grows less attractive as a destination. Jesse Cullum is a native. And he knows the passageway will be closing soon. He's fallen in love with a woman from our time, and he means to follow her back–no matter whose secrets he has to expose in order to do it.
Alterations by Stephanie Scott (Young Adult Contemporary; December 6, 2016; Bloomsbury Spark) If anyone saw the prom boards Amelia Blanco makes on her favorite fashion app, they'd think Ethan Laurenti was her boyfriend. They wouldn't know that all the plans she's made for them are just dreams, and that she's the girl who watches him from the kitchen while her parents cook for his famous family. When Amelia's abuelita enrolls her in a month-long fashion internship in NYC, Amelia can't imagine leaving Miami–and Ethan–for that long. As soon as she gets to New York, however, she finds a bigger world and new possibilities. She meets people her own age who can actually carry on a conversation about stitching and design. Her pin boards become less about prom with Ethan and more about creating her own style. By the time she returns to Miami, Amelia feels like she can accomplish anything, and surprises herself by agreeing to help Ethan's awkward, Steve-Jobs-wannabe brother, Liam, create his own fashion app. As Liam and Amelia get closer, Ethan realizes that this newly confident, stylish girl may be the one for him after all . . . even though he has a reality TV star girlfriend he conveniently keeps forgetting about. The "new and improved" Amelia soon finds herself in between two brothers, a whole lot of drama, and choice she never dreamed she'd have to make.
Nico (Ruin & Revenge #1) by Sarah Castille (Romance; December 6, 2016; St. Martin's Paperback) Las Vegas Mafia boss, Nico Toscani, is used to getting what he wants, whether it is having the City of Sin under his rule or a beautiful woman in his bed. But when he meets his match in the gorgeous, headstrong Mia Cordano, the daughter of a rival crime lord, all bets are off. Sexy computer hacker, Mia, struggles to break free of her ruthless father's Mafia ties…but she can't resist the powerful and seductive Nico, who will stop at nothing to possess her. With their families locked in a brutal war for control of the city, Mia and Nico enter into a forbidden game. Will they surrender to the passion that burns between them—and risk tearing apart their families? Or will Nico be forced to betray the only woman who sets his blood on fire?
Unfettered II by Shawn Speakman (Editor) (Fantasy Anthology; December 6, 2016; Grim Oak Press) Lacking health insurance and diagnosed with Hodgkin's lymphoma in 2011, Speakman beat the disease as well as the massive medical debt he amassed from its treatment. He did this by publishing Unfettered, an anthology featuring short stories donated by some of the best science fiction and fantasy writers working today. The fight will not stop there. In an effort to pay forward the aid he received—and to memorialize his mother who passed away from stomach cancer in early 2016—Speakman has again collaborated with celebrated genre authors to publish Unfettered II. All proceeds from the anthology will either help eliminate medical debt for other authors or be donated to cancer research hubs around the world. Twenty-one original new tales comprise this amazing collection and, as the title suggests, the writers were again free to contribute whatever they wished.
SP4RX by Wren McDonald (Graphic Novel; December 13, 2016; Nobrow Press) SP4RX, a young hacker who lives off grid, hacks into corporations and sells stolen data to wealthy buyers on the black market – just your average thief. Mega corporation Structus Industries introduces a welfare program called the "Elpis Program", which allows the working class to apply for Cybernetic implants to make workers more efficient. On the surface, it seems like a program to empower the poor and allow them to rise to the ranks of the elite. But SP4RX soon discovers all is not as it seems… SP4RX and Structus are set on a collision course with the fate of humanity at stake in Wren McDonald's latest sci-fi tale of survival and corruption!
The Hero (Sons of Texas #1) by Donna Grant (Romance; December 6, 2016; St. Martin's Paperback) Owen Loughman is a highly-decorated Navy SEAL who has a thirst for action. But there's one thing he hasn't been able to forget – his high school sweetheart, Natalie. After over a decade away, Owen is returned home to the ranch in Texas for a dangerous new mission that puts him face-to-face with Natalie and an outside menace that threatens everything he holds dear. He'll risk it all to keep Natalie safe – and win her heart. . . Natalie Dixon has had a lifetime of heartache since Owen was deployed. Fourteen years and one bad marriage later, she finds herself mixed up with the Loughman's again. With her life on the line against an enemy she can't fight alone, it's Owen's strong shoulders, smoldering eyes, and sensuous smile that she turns to. When danger closes in, she holds close to the only man she's ever loved…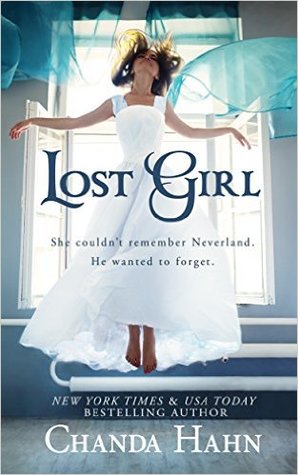 Lost Girl (Neverwood Chronicles #1) by Chanda Hahn (Young Adult Fantasy; December 13, 2016) Wendy doesn't remember anything about Neverland—or the experiments done on her there as a child. Seven years later, all she wants is a normal life, but shape-shifting shadows plague her dreams and turn her life into a waking nightmare. When the shadows attack at a football game and a boy disappears right in front of her, she realizes these wraith-like shadows are real. They're not just haunting—they're hunting. A mysterious boy named Peter, his foul-mouthed sidekick, and a band of misfit boys intervene before Wendy faces a similar fate. But can they trust Wendy enough to take her to Neverwood Academy and reveal all of their hidden secrets when she's hiding a secret of her own, or will the dreaded Red Skulls find her and drag her back to Neverland?
Lumberjanes, Vol. 5: Band Together by Noelle Stevenson, Shannon Watters, Grace Ellis, Brooke Allen(Illustrations) (Graphic Novel; December 13, 2016; BOOM Box!) Excited for the annual Bandicoot Bacchanal, Ripley recruits her friends to help her get ready for the dance. But before the Lumberjanes know it, something mysterious begins to bubble to the surface of the lake near camp! Will the Lumberjanes be able to bring peace to the lake in time for the Bacchanal? 
Say Goodbye for Now by Catherine Ryan Hyde (Historical Fiction; December 13, 2016; Lake Union Publishing) On an isolated Texas ranch, Dr. Lucy cares for abandoned animals. The solitude allows her to avoid the people and places that remind her of the past. Not that any of the townsfolk care. In 1959, no one is interested in a woman doctor. Nor are they welcoming Calvin and Justin Bell, a newly arrived African American father and son. When Pete Solomon, a neglected twelve-year-old boy, and Justin bring a wounded wolf-dog hybrid to Dr. Lucy, the outcasts soon find refuge in one another. Lucy never thought she'd make connections again, never mind fall in love. Pete never imagined he'd find friends as loyal as Justin and the dog. But these four people aren't allowed to be friends, much less a family, when the whole town turns violently against them. With heavy hearts, Dr. Lucy and Pete say goodbye to Calvin and Justin. But through the years they keep hope alive…waiting for the world to catch up with them.
The Legend of Wonder Woman Vol. 1: Origins by Renae De Liz (Graphic Novel; December 13, 2016; DC Comics) A new 9-issue miniseries with a story written and pencilled by Renae De Liz ("The Last Unicorn")! In the beginning, there was only chaos. But Hippolyta, Queen of the Amazons, saw a better future–and eventually, her daughter would be destined to bring that new world to life. Before her ultimate fate unfolds, though, Diana of Themyscira must learn the important lessons of an Amazonian childhood!
Moon Knight, Volume 1: Lunatic by Jeff Lemire (Writer), Greg Smallwood (Illustrations) (Graphic Novel; December 13, 2016; Marvel) Marc Spector (a.k.a. Moon Knight/Jake Lockley/Steven Grant) has been fighting criminals and keeping New York City safe for years… or has he? When he wakes up in an insane asylum with no powers and a lifetime's worth of medical records, his whole identity (indentities) are called into question. Something is wrong, but is that something Marc Spector himself? Jeff Lemire (Extraordinary X-Men) and rising star Greg Smallwood are calling everything you know about Moon Knight into question.